A contemporary artspace unfolding in the open air of a forest
Deep Forest Art Land produces and presents contemporary art which initially can seem difficult to understand, but by combining a high level of artistry and artists who understand the context of the forest, a new type of dialogue and community between the art and the audience emerges. In Deep Forest Art Land, you will meet high-quality contemporary art in new and unexpected ways.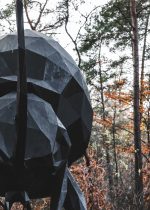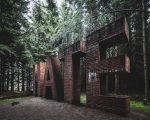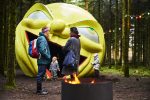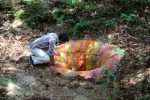 Experience a different type of art and meet art in a new way
The framework and conditions of working in a forest, combined with the different type of meeting with the audience, makes is possible to create a different type of art.
In most artspaces, the artist is met with four white walls, but in Deep Forest Art Land, the artspace is consists of nature and an open sky. This also means that the artists must address the decay and disrepair of the artwork, as well as how they will change with the seasons.
In Deep Forest Art Land, the audience is given the oppportunity to experience the artworks up close, touch and interact with them. The pieces are constructed on-site, and this construction can stretch over a long period of time. This makes it possible for visitors to follow the process, and for the artists to create a dialogue with their audience. We believe in experiencing the artistic process first-hand – whether through observing the construction of an artwork or working directly together with the artist. We want to give our visitors the opportunity to try their skills on new things; to experience themselves and their body in new ways in new social and material environment.
Additionally, we are continuously working on engaging new user groups in the production process, for example disadvantaged young people or inmates at the local prison. We also wish to further strengthen the local community through additional production collaborations, volunteers and commercial collaborations with local businesses.