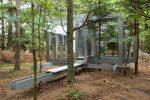 In The Woods
In The Woods is a sculpture by the duo Allan Gabi, which consists of Claus Egemose and Michael Mørk. The sculpture was originally shown as a part of Sculpture By The Sea - an exhibition by the beach in Århus in 2015.
Today, you can see the sculpture on the Sculpture Graveyard in Deep Forest Art Land.
Title: In the Woods
Year: 2018
Dimensions: 320 x 650 x 800 cm
Info om kunstner
Claus Egemose er en dansk billedkunstner. Han har arbejder både individuelt med egen kunstpraksis og som en del af kunstnerduoen Allan Gabi sammen med billedkunstner Michael Mørk.