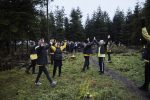 Get a unique, cultural experience
Be an active participant in the creative process in Deep Forest Art Land
Would you like a unique, cultural experience, where you become an active part of the creative process? In Deep Forest Art Land, we have continually held different workshops for kids, youths and adults in an collaboration with artist from all over the world.
Do you want a one-of-a-kind experience during your visit to Deep Forest Art Land by participating in an exciting workshop? Contact us via e-mail skovsnogen@hotmail.com and learn more about the possibilities.
Below, you can read about the previous workshops, held in Deep Forest Art Land.