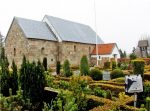 Close to the Central Jutlandic highway, about 8 minutes by car, or 20 minutes from Herning Town Hall, you will find Skarrild like a pearl by Skjern River.
Skarrild is located about 7 km from Deep Forest Art Land, and the town is a nice stop on your way to the forest.
The town is located by Skjern River and surround by beautiful nature. Here, you will find a school, a multi-purpose hall, a mechanic and a number of exciting associations.
Travel back in time and look at an interesting store window from 1910
At the merchant's house, north of the roundabout in Skarrild, Per Odd Dalen Pedersen has established a small merchant museum.
Here, you can travel 100 years back in time and experience a small merchant as it would've looked in 1910. For several years, Per has collected antique coffee grinders, packaging products and other inventory from old merchant shops.
Contact Per Pedersen by calling 0045 60 24 90 34 to visit the shop, or just stop by and look at the interesting store window on your way to Deep Forest Art Land.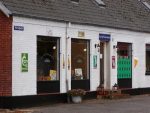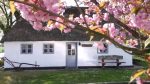 Learn more about genealogy and archival work in Skarrild-Karstoft Museum and Local Archive
In the middle of Skarrild, you will find a quaint, thatched house. This is Skarrild-Karstoft Museum and Local Archive.
Inside the house, there are several small rooms, among these a memorial room for the 7 allied pilots burried in the Fliers' Grave. 
Visit the museum and learn more about the history of the area. Learn for example the story of the twin brother to one of the burried pilots in the Fliers' Grave. He died in Australia, and his last wish was to be burried next to his twin in Skarrild.
Visit Skarrild's beautiful church - built in the Middle Ages and one of the oldest in Denmark
The church of Skarrild is a lovely, small church and definitely worth a visit. It is a church built in the Middle Ages, around the year 1150, making it one of the oldest churches in all of Denmark.
The church is open in day, and at the graveyard, you will find the memorial site the Fliers' Grave.