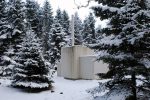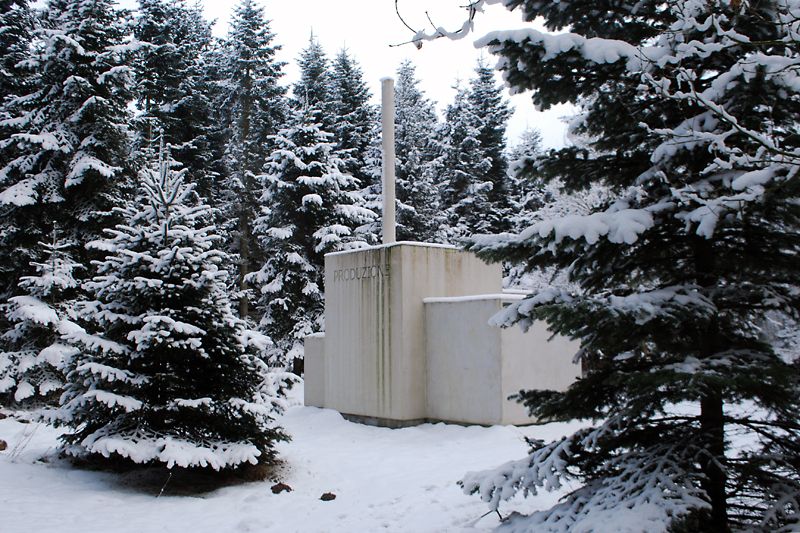 Produzione
Produzione is not just a work of art. It is also the official shelter of Deep Forest Art Land, where guests can stay the night. Book your stay by sending an e-mail to skovsnogen@hotmail.com.
John Kørner has always been fascinated by factories and their aesthetic. In an interview with Bente Jensen from Kunsten.nu, he says:
"Factories are fantastic. They are monumental with their own beauty, atmosphere and visionary thoughts. They contain thought of producing - something. And there is a greatness in factorybuildings, which fits into the romantic surroundings of a forest. [...] I like the surprise, contained in my factory by being placed in a romantic location, a forest.
From a distance it looks like a factory, and the smoke suggests it as well. That the factory turns out to be a shelter, where you can stay the night and get warm, is a social aspect of the piece, which suits me. My previous factories have been temporary. Produzione is the first more permanent piece. And with the added function of being a shelter."
Title: Produzione
Year: 2011
Materials: White concrete
Info om kunstner
John Kørner er en dansk billedkunstner, bosat i København. Han er uddannet fra Det Kongelige Danske Kunstakademi i 1998. I 2012 blev han udmærket af Det Kongelige Akademi for de Skønne Kunster med Eckersberg Medaillen.