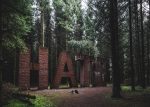 HATE
Prior to meeting this bricksculpture, the visitors will have already seen a row of other pieces, challenging both the senses and the intellect.
Many of these challenges are delivered with humour and romance. With Brinch and Olsson's HATE, the viewer is challenged more directly, and at the same time, the old bricklayer-traditions combined with the special atmosphere of the forest create a space for thought and reflection. When you think about what they hate, it is impossible to not also think about what you love. The sculpture lays the foundation for a debate of values, and despite its heavy visuals, it gives the viewer a positive message.
HATE was created in the summer of 2013 in collaboration with Jacob Olsson.
Info om kunstner
Jes Brinch er dansk installationskunstner, bosat i Malmö. Han er især kendt for sine samfundsdebatterende kunstværker, der med en aggressiv og antiautoritær attitude stiller spørgsmålstegn ved kunstens rammer og ved kunstinstitutionen generelt. To eksempler er projekterne Burn out. Brændt børnehave og Burn Out. Parking, begge fra 1994, som Brinch skabte i samarbejd med Henrik Plenge Jakobsen. De to kunstnere fik stor mediebevågenhed, da de hhv. brændte en installation med børnehaveinventar og udstillede 18 smadrede biler, en campingvogn og en væltet HT-bus på Kongens Nytorv i København.