Nicole Cecilie Bitsch Pedersen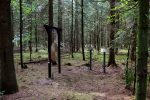 Gong for time
The work is inspired by archaeological history. It incorporates fictitious archaeological finds, a museum plaque with text in Danish, English and Chinese, as well as a 1 meter in diameter gong that all visitors can use.
Title: Gong for time
Year: 2019
Info om kunstner
Nicole Cecilie Bitsch Pedersen arbejder med lydbilleder og akousmatisk komposition, filmlyd, installationer og lydskulpturer, der kombinerer lyd, natur og teknologi.
Nicole er kandidat i elektronisk musik fra Dansk Institut for Elektronisk Musik (DIEM), Danmark.