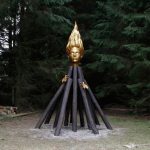 Altar In The Woods
Altar In The Woods is a location specific installation, made specially for its location in Deep Forest Art Land. The installation looks like a giant campfire with a flaming head on top. The flaming head has a peaceful expression with closed eyes.
Title: Altar In The Woods
Year: 2018
Materials: 3D-printed sculpture, wood
Dimensions: 450 x 280 x 280 cm
Info om kunstner
Ole Tersløse er en dansk billedkunstner, bosat i Hjørring. Han er uddannet fra Det Kongelige Danske Kunstakademi i 2000, og har desuden en bachelor i litteratur- og kunsthistorie fra Århus Universitet.