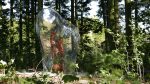 Booster
Booster is a collaboration between artist Silas Inoue and architect Simon Hjermin Jensen. The piece is made out of natural materials, which will break down and change as times passes. It consists of a wooden sculpture covered with 75 kg sugar and surrounded by a membrane of polycarbonate. Due to the membrane, Booster works as a greenhouse, and the sugar will attract insects. In this way, the piece will interact with nature and change over time.
Title: Booster
Year: 2017
Materials: Wood, caramelised sugar, polycarbonate
Info om kunstner
Simon Hjermind Jensen er en dansk arkitekt. Han er uddannet fra Arkitektskolen på Det Kongelige Danske Kunstakademi i 2007. I sine værker udforsker han ofte organiske former, rum og konstruktioner. Han er desuden kendt for at kreere store konstruktioner i det offentlige rum.