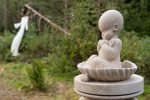 Master Baby
On a tornado comprise of several column designs, a never-ending otherworldly movement, Master Baby is presented in a giant seashell. It is not the birth of Venus, despite the absence of the mother.
Here it is the newly created full-bodied genetics that are presented decadently with a stylized pineapple as a benchmark.
Master Baby is a sculpture by the British artist Emma Sheridan. It was created in connection with the exhibition Motherload in 2018.
Title: Master Baby
Year: 2018
Materials: Portland stone
Info om kunstner
Emma Sheridan er en britisk billedkunstner og skulptør.