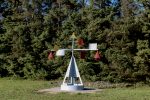 The Windshield
The Windshield was created in connection with INGRID - Deep Forest Art Camp, a summercamp for young girls in 2019.
Title: The Windshield
Year: 2019
Info om kunstner
Ragnhild May er en dansk billedkunstner. Hun er uddannet fra Det Jyske Kunstakademi i 2014. Hun er desuden uddannet med en MFA fra Bard College i New York i 2018.