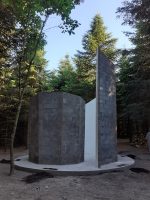 Aesthetic anxiety
Aesthetic anxiety is a sculptur by artist Jacob O. Henry. The construction was made with assistance from architect Mikkel Søholt Larsen.
Titel: Aesthetic anxiety
Årstal: 2020
Info om kunstner
Jacob O. Henry er en dansk billedkunstner, bosat i København. Han er uddannet ved Det Kongelige Danske Kunstakademi i 2019. Udover at have egne værker i Deep Forest Art Land, deltog han også i INGRID - Deep Forest Art Camp i 2019, og så hjalp han med opbygningen af Jes Brinchs Hate.